How To Promote Plumbing Services
Practical marketing ideas for plumbing companies that want to attract high-quality leads with cost-effective tools.
Table of Contents
Identify Your Target Audience
Set Achievable Marketing Goals
Reach Maximum Online Visibility
Test Outbound Marketing Strategies
Final Thoughts



Are you a plumber looking for effective forms of marketing in your niche? Then you've come to the right place. In this blog post, you will find tips and strategies to attract potential customers to your plumbing business using inbound promotion tools. So without further ado, let's get started.
Identify Your Target Audience
One of the first steps in developing an effective marketing strategy for plumbing companies is to identify your ideal customer profile. This means understanding who you want to reach and engaging them where they spend their time online — whether on social media websites like Facebook or Twitter or through search engine optimization (SEO).
Knowing who you're targeting will help you determine the type of plumbing services you should offer and where and how to advertise your services. Here are some tips for identifying your target audience for a plumbing business:
Gather Information About Your Business
Before you can identify the people who would be most interested in your offers, take some time to understand all the relevant details about your business. What type of plumbing do you specialize in? What geographic area do you serve? Who are your competitors? Do you offer any additional services, such as remodeling or maintenance?
Analyze Your Ideal Customer
The next step is to consider who is most likely to use your services and create an "ideal customer profile" for them. What age group do they belong to? Are they homeowners, landlords, or tenants? Are they tech-savvy or prefer traditional methods of communication?
Research The Market Demographics
Once you have a clear idea of your ideal customer, it's time to research the market demographics where they live. Knowing how many people fall within each demographic — such as income level, marital status, age range, etc. — will enable you to narrow down your target market's exact size and scope.
Use Online Tools To Refine And Expand Your Target Audience
There are plenty of online tools available that can help refine and expand your target audience based on their buying habits, interests, and locations. For example, Facebook Ads Manager allows business owners to target specific audiences by building custom audiences with insights from each user's profile information, including behaviors and interests that match what you need for marketing campaigns.
Test Different Marketing Tactics To See Which One Is Most Effective
Finally, after narrowing down your audience, test different forms of marketing to see which will produce better results and more revenue for your business over time. A/B testing is a great way to track progress and achieve desired objectives.
To see a big picture of your marketing efforts' effectiveness, run a marketing report in your customer relationship management software featuring the number of leads, sales, and work orders you've got from a particular advertising channel. This way, you can understand your ROI and plan further budgets wisely.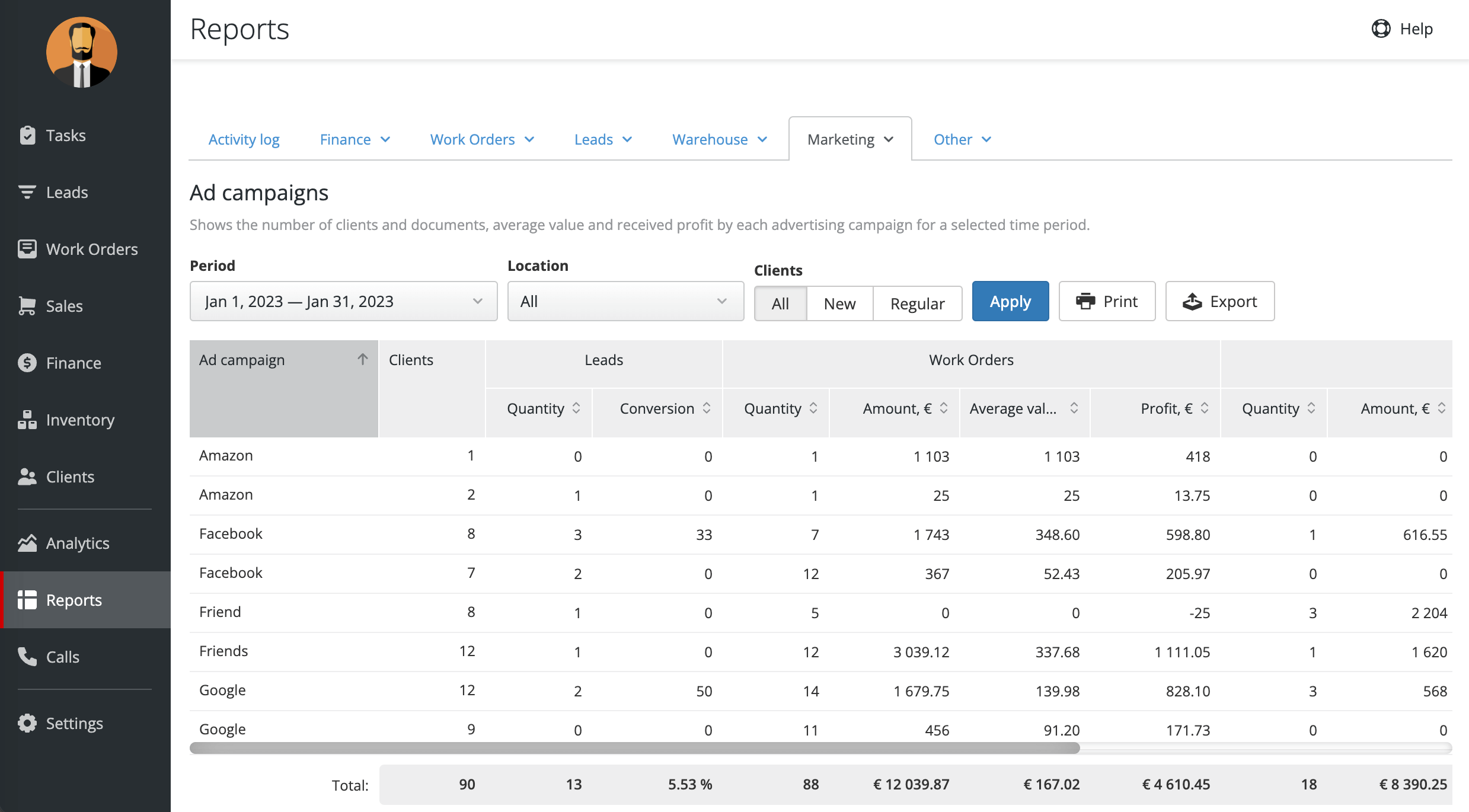 Ad campaigns report in Orderry
Set Achievable Marketing Goals
Establishing attainable marketing objectives can help keep your plumbing company on track and ensure you achieve the desired results in attracting more plumbing leads. Here are some tips on how to do this effectively:
Start With SMART Goal Setting
SMART stands for Specific, Measurable, Attainable, Relevant, and Time-Bound. To make sure that your goals are SMART and achievable, start by answering the following questions:
What specifically do I want to accomplish?
How will I measure my progress?
Is this goal realistically achievable in a certain period of time?
Does this goal align with my broader business objectives?
Set Goals Based On Your Current Situation
Make sure to identify where your business currently stands and the resources available to determine what outcomes can be realistically achieved within a predefined period.
Break Down Large Goals Into Smaller Ones
Big-picture thinking is excellent, but sometimes it's hard to stay motivated when taking on large initiatives all at once. To increase motivation and ensure better results, break down more significant objectives into smaller chunks that can be worked on over time. This helps create an actionable plan with milestones, which can, in turn, help optimize performance metrics such as customer loyalty or customer retention rates over time.
Monitor Progress Over Time
The most crucial part of achieving marketing goals is tracking success over time – no matter how small that success may be. The idea here is to continuously monitor metrics such as website visits, conversion rates, online impressions, etc., across time periods so that any issue can be addressed quickly and any opportunity identified early on. It also helps ensure that you progress toward achieving long-term and shorter-term objectives.
Reach Maximum Online Visibility
To capture potential clients from the web, it's essential that you have a website that is both visually attractive and optimized for SEO purposes. That way, when people search for plumbers online, they're more likely to find your website at the top of Google Search.
Research Your Keywords
Before you start optimizing your site, it's important to research keywords that focus on relevant topics within your industry. This will help ensure that any content you create is more likely to appeal to potential customers and search engine algorithms alike.
Once you have identified the best keywords for your website's niche, use those key terms in title tags and headers throughout each page. Also, make sure to incorporate them naturally into the body copy and meta descriptions associated with each page.
Invest in Content Marketing
Content is king online, so make sure you invest some time into content marketing efforts such as blogging and creating video tutorials related to plumbing topics like installation instructions or common repairs. Doing so will help increase brand awareness, boost website traffic and authority, and position your company as a leader in your industry.
Utilize Internal Link Structures
Utilizing internal links will help increase user engagement on your website by making it easier for people to navigate through content or access related pages about services offered. Additionally, internal linking provides valuable information about what pages are connected and can be used by Googlebot when crawling through the site, aiding SEO efforts and increasing organic rankings over time.
Optimize URLs
Optimizing the URL structure of website pages can be beneficial in two ways. First of all, shorter URLs are easy-to-remember and more likely to be shared by users who click through from search engines or social media profiles — helping with backlinks that enhance a web page's authority in the eyes of Google algorithms reading them (or link signals). Secondly, optimizing URLs allows keyword strings containing relevant terms associated with each webpage to become easily recognizable in SERPs (search engine results pages) when searched for terms related to such items or topics described within them – helping generate organic traffic too.
Take Advantage Of Local SEO Techniques
As a local service business, exploring local SEO techniques will increase online presence for particular geographic region-related searches. Here are some steps on how to use local SEO techniques for your plumbing marketing:
Claim Your Google My Business Listing

A GMB listing lets you provide helpful information about your business – such as an address, contact information, hours of operation, and services offered – directly in the organic search results and on Google Maps. It's also an excellent way for customers to leave online reviews and rate their experience with your plumbing services.
Optimize Your Website Content to Appear in Google Local Services

For local searches, it's essential to include specific keywords related to the location and service being provided in the page titles and body copy of any page on your website. For example, if you provide a drain-cleaning service in Denver, CO, then words like "Denver" and "Drain Cleaning" should appear throughout relevant pages on your website.
Use Geo-Targeting Techniques

They allow you to target visitors within a particular geographical area by showing localized advertising and content based on their IP addresses or other geographic indicators. This gives you an advantage over competitors who don't use geo-targeting when launching advertising campaigns.
Increase Social Media Presence with Location Tags

Social media platforms like Facebook, Instagram, and Twitter all have location tags — accessible through mobile apps — that can help people find businesses near them using geolocation technology. Within social media posts, simply add keywords related to the location that feature prominent geographic markers such as city names or zip codes to increase the chances of appearing in targeted user searches related to those areas.
Use Client Feedback to Get More Leads

Customer reviews play a significant role in local SEO – especially for plumbers – since prospective clients will likely inquire about past experiences with plumbing services before deciding who to hire. Therefore, it's crucial that you continuously monitor your reputation online so you can respond quickly (and appropriately) if/when any complaints arise while also amplifying positive client recommendations whenever possible.
Test Outbound Marketing Strategies
To get maximum benefits from promotion on different platforms, ads can be implemented across popular social networks like Facebook or Google Ads, depending on which advertising method work best for your target audience segmentation & budget goals. When done correctly, paid advertising campaigns can help attract qualified leads while delivering excellent ROI relative to other channels, such as print media, radio/TV advertising campaigns, or cold calls.
When dealing with outbound promotion, be aware that the cost of advertising will be higher than the methods described above, so you should optimize your PPC campaigns regularly.
Final Thoughts
There are many forms of promotion available for plumbing business owners looking to increase their online visibility and the number of high-quality leads. While outbound marketing can bring you quick results, you should focus your efforts on inbound promotions as these tools are more cost-effective. Work on getting better SEO rankings for your website, get listed on Google Local, be active on social media, and receive as many reviews from happy customers as possible.
comments powered by

Disqus