Critical Reasons to Implement Customer Relationship Management for Small Businesses
A small business CRM is a tool used to streamline operations and save time. Find out what advantages there are and why you should have incorporated this solution into your workflow a long time ago.
Table of Contents
Why is using a CRM a Good Idea for Any Company?
A Look at CRM for Small Business
How Can a Small Business Use Management Software in Their Everyday Lives?
Final Thoughts
Small businesses are under a lot of pressure to remain competitive in today's marketplace. One way to stay ahead of the game is to implement client relations software. There are many advantages to this type of program that we will discuss in this article.
Why is using a CRM a Good Idea for Any Company?
A CRM (customer relationship management) is an invaluable tool for any business, regardless of its size. It provides important insights into the customers you are doing business with and what level of customer retention you have in your company. You will also get data on how your target audience is responding to certain strategies to know what works for your business and what doesn't.
A Look at CRMs for Small Business
Often, entrepreneurs and managers of small businesses can feel overwhelmed and spread thin. There are a lot of moving pieces and people they need to keep track of, and they're often looking for ways to optimize their time and efficiency. Do you recognize yourself? If yes, it's time to change the way you work. Just have a look at these benefits of a CRM solution:
a

unified database

to keep track of customers as well as all interactions with them

performance analytics

: making sure you're spending time on the customers who provide the most revenue as well as those who need the most attention

automated lead management

: a CRM will automatically send out emails and reminders to prospects who haven't responded to the company's outreach and offers

tracking

multiple customer service channels

producing and delivering

accurate quotes

building

customer loyalty

improving

customer retention

rates

and

targeting


Impressive? And these are just a few. If you are ready for such a solution, let's find out what different types of CRM tools are out there:
1. On-premise: it is hosted and managed by the company using an in-house server.
2. Cloud: it is hosted and managed by a third party and delivered as a service to the company.
3. SaaS: this is a software as a service, also hosted by a third party but delivered as a subscription via the internet.
The most affordable CRM software for small businesses is a SaaS solution as it doesn't require a big investment at the start and offers flexible subscription plans based on the company's size and industry.
How Can Small Businesses Use Management Software in Their Everyday Lives?
For small businesses, CRMs can be especially helpful when it comes to scalability and efficiency. They also often lack the manpower and resources to efficiently run their operations. A software program will smooth out processes, making it easier to handle day-to-day tasks and plan for the future. CRMs can help save money by boosting productivity and allowing you to make better use of your time and resources. You will benefit from using it in sales, marketing, administration, and other departments.
How CRM Tools Help with Sales
A CRM's most visible and helpful roles are in sales. The process of closing a sale can be lengthy and complicated. Especially for a small company, it can be difficult to keep tabs on all the information involved. A CRM for a service business can help SMB owners track and organize everything from contacts, lead status, progress to the customer, and more to increase lead conversion rates as well as to avoid confusion and frustration in sales conversations.
How Customer Relationship Software Helps with Marketing
It simply collects all the data you need to know about your customers. This includes contact information, buying habits, demographics, and what each customer wants individually. By providing visibility into customer interactions and intent, the tool will help you customize your marketing messages, offerings, and services to meet the needs of your target audience as well as retain more customers.
Business Organizing Software Increases Workplace Productivity
CRMs keep employees organized and on task enabling them to focus on day-to-day customer operations. It also makes it easier to track customer interactions such as the status of a work order, their complaints, and requests so your team can better communicate with clients and make them feel valued.
As a tool that demands accuracy, consistency, and discipline, a CRM is designed to offer clients reliable, comprehensive customer service. With automated features, it schedules appointments, alerts people of upcoming deadlines, sends out reminders, resolves issues, and more.
You'll See Where Results Are Coming From
With an all-in-one CRM, you will get the most valuable tool for running a small business — predictive analytics. These are all about figuring out what your customers are likely to buy next, what they need the most, and what they are thinking about your company. You'll be able to track opportunities for business growth, measure return on investment, and make smarter decisions based on real data and not guesswork.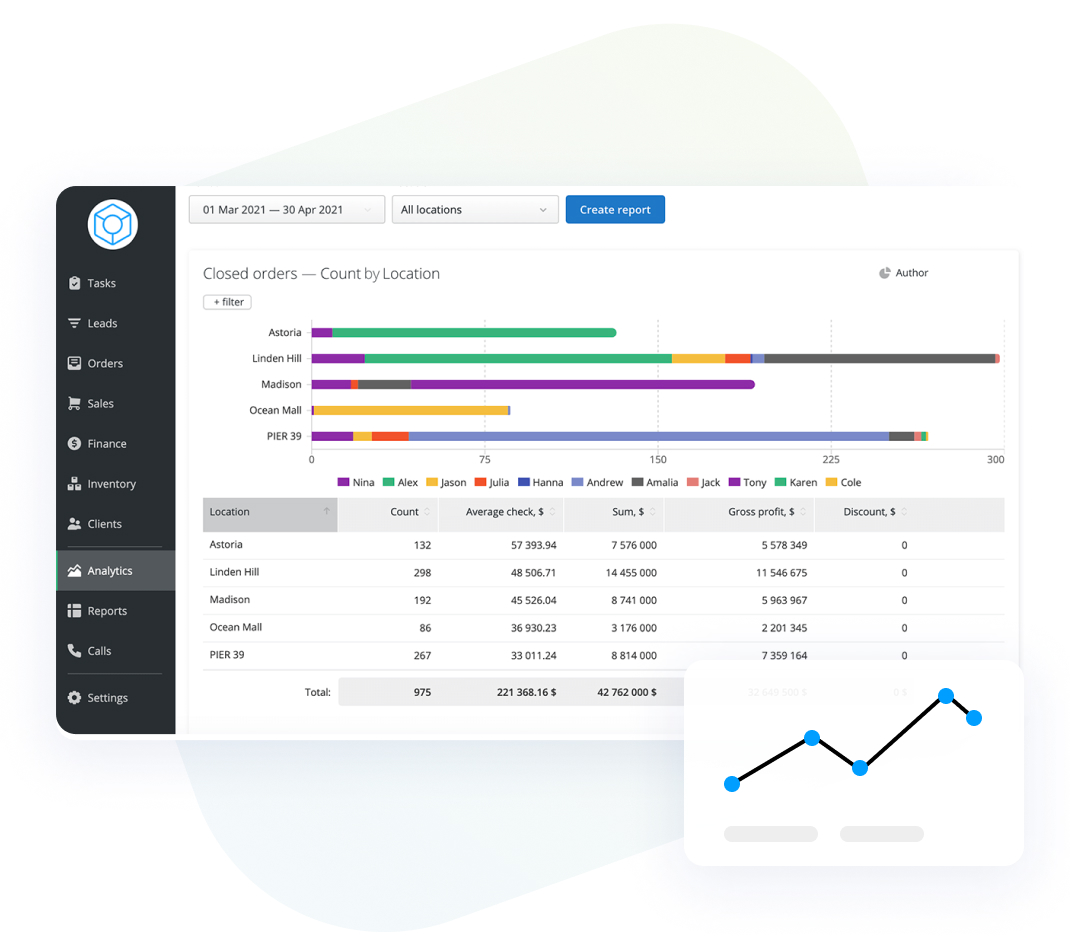 Screenshot of the Company Insights Report in Orderry
Final Thoughts
A CRM for small businesses allows the owners to save time and money by running smoothly and efficiently. There are many reasons for this, such as the CRM could be used to create workflows for business processes, track deadlines, job listings, and measure statistics such as the number of customers, leads contacted, and sales amount. All of this data can be tracked and monitored to see how the business is doing and what areas need improvement. The small business can then figure out how it can reach its goals and make changes to improve efficiency.
comments powered by

Disqus