Unpacking The Different Levels Of Salaries For HVAC Technicians In The US
Understand what makes the average salary of licensed and skilled HVAC techs and outline what factors affect these numbers.
Table of Contents
Overview of HVAC Technician Job Requirements and Duties
Average Salary Range of an HVAC Technician
Factors Affecting Pay for HVAC Techs
Different Salary Levels Based on Professional Experience
Additional Benefits for HVAC Technicians That Could Increase Pay
Final Thoughts
Are you considering building a team of HVAC technicians in your indoor environment solutions company? This high-value job requires a wide range of specialized skills and deep knowledge of complex mechanical systems. For a business owner, it is essential to understand HVAC Technicians' salaries across the different levels in the industry to determine average pay for new hires up to experienced technicians with managerial responsibilities. This article provides detailed information on the potential salaries for full-time HVAC technicians operating in the United States.
Overview of HVAC Technician Job Requirements and Duties
An HVAC technician is a skilled specialist who installs, maintains, repairs, and services heating, ventilation, and air conditioning systems. They also provide preventative maintenance services to ensure the system operates in optimal condition. Here are some general requirements found in job openings:
Ability to read blueprints and schematics.
Experience in electrical, mechanical, and refrigeration systems.
Ability to troubleshoot problems and repair residential and commercial HVAC equipment.
Knowledge of safety protocols and adherence to local building codes.
Exemplary sales skills and customer service experience.
Let's look at some of the popular specialties in this trade:
HVAC Designer
HVAC designers create systems plans to control the climate, provide ventilation, and improve the energy efficiency of buildings while considering safety regulations and energy conservation laws. According to PayScale data, their median salary is $65,000 per year.
HVAC Maintenance Technician
An HVAC maintenance technician specializes in the maintenance, inspection, and repair of various HVAC systems. This may include installing new units or components and performing preventive and corrective maintenance for existing systems. This type of technician makes $45,000 a year on average.
HVAC Project Engineer
An HVAC project engineer is a professional who designs, plans, and executes installing heating, ventilation, and air quality systems. They manage air conditioning projects throughout their duration, ensuring customer requirements are met, overseeing contractors, and troubleshooting to ensure efficiency and quality. Their annual pay is around $74,000 in the US.
Commercial HVAC Technician
A commercial HVAC technician is a skilled tradesperson specializing in installing, maintaining, and repairing commercial buildings' heating, ventilation, air conditioning, and refrigeration systems. On average, these professionals earn $63,000 annually.
Aviation HVAC Technician
Aviation HVAC technicians are specialized professionals in aeronautical industries. Aerospace companies hire HVAC techs to provide a critical safety role in aircraft maintenance, service, and repair. They are responsible for installing and servicing climate control systems on planes, helicopters, and other aerospace vehicles. These technicians can make up to $79,000 a year.
Steps to Becoming a Qualified HVAC Technician
Completing an HVAC vocational training or an associate degree program.
Obtaining certifications from a technical trade school or a college (e.g., refrigerant recovery or gas safety certifications).
Obtaining a state license, if required.
Getting on-the-job experience to keep updated with new technology and air conditioning products.
Average Salary Range of an HVAC Technician
The national average for a typical HVAC Technician in the United States is $46,000 - $81,000 per year. This wide range of salary potential reflects the level of training and experience each technician possesses. More experienced technicians can earn up to $26-$41 an hour, depending on their credentials and certifications.
Unsurprisingly, their salaries are higher than many home repair services. This is because HVAC technicians must:
often work in unpleasant conditions
attend specialized classes to stay current on standards and technology
possess general repair knowledge of various mechanical systems beyond merely being able to operate the equipment they service.
Automate payroll and accrual in your HVAC company to pay your techs accurately and on time. Schedule a demo to see how easy it is with Orderry
Factors Affecting Pay for HVAC Techs
Several factors, including location, qualifications, and experience, determine the salary of an HVAC Technician:
Location plays a crucial role in influencing the pay for this job, with annual salaries varying depending on the cost of living in the area. E.g., an average base salary in North Dakota is $56,000, while an HVAC tech makes around $45,000 annually in North Carolina.
Qualifications are also crucial as higher-level education and training in career-specific skills like troubleshooting heating or cooling systems can lead to more significant job opportunities and boost salary growth.
Experience is also a factor when considering salary; technicians working in the field for extended periods generally have more knowledge and expertise, resulting in better pay.
Different Salary Levels Based on Professional Experience
Depending upon a technician's experience and expertise, the salary for HVAC technicians can vary greatly. A yearly salary of roughly $40,000-$50,000 is typical for entry-level HVAC technicians. Mid-level technicians make between $50,000-$80,000 annually based on merit and skill set, while senior-level HVAC professionals typically make 80,000+ USD annually in the United States. These numbers may differ from region to region depending on the local economy and cost of living.
When using Orderry for managing your employees' payroll, you can set up coefficients to multiply each tech's individual salary based on their seniority levels. With this feature, you ensure your technicians receive fair pay for the same labor according to their experience and skills.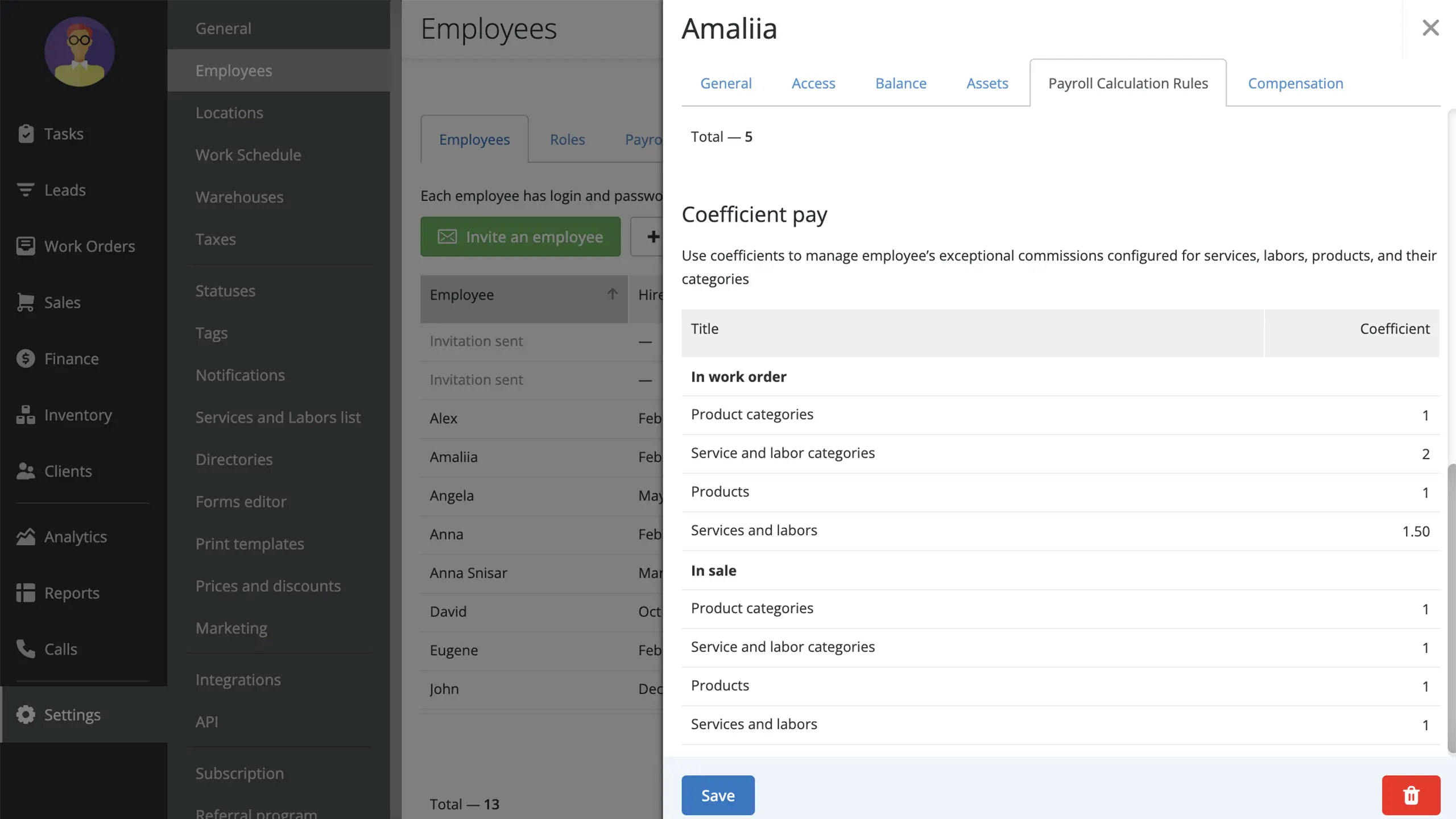 Setting up Coefficients in Orderry
Additional Benefits for HVAC Technicians That Could Increase Pay
One crucial way that HVAC technicians can increase their compensation is to pursue additional opportunities and certifications available in their field. With specialized certifications, technicians can provide additional services and make more money than regular HVAC work alone. Getting certifications such as NATE or EPA 608 will assure employers that technicians have the required knowledge and technical skills in handling issues with insulation, refrigerants, electrical circuits, ventilation systems, and more.
Being an expert in customer service is another benefit for HVAC technicians because it establishes trust and goodwill between the real customer and the business. This helps to cultivate a long-term relationship, as customers are more likely to reach out again if they had a positive experience with a helpful and enthusiastic HVAC professional.
Final Thoughts
HVAC technician salary amount is driven by many factors, including an extended learning path, injury risk, and often unpleasant working conditions. The complexity of domestic and industrial systems requires a rich skillset, industry knowledge, and years of experience that make the tech's pay reasonable. Of course, locations are also crucial as you cannot ignore the cost of living in a particular area.
comments powered by

Disqus