How To Start An Electronics Repair Business In 2023
Thinking about opening a smartphone repair shop or knowing someone who has already started a business like that? Maybe you want to stop working for someone else, or you're tired of working at all. Well, now it's a good time to start your very own phone repair business, and it's easier than you think.
Table of Contents
The Good Thing About the Electronics Repair Business
Making Money from Cell Phone Repairs
Choosing the Right Business Model
The Pitfalls of Starting a Cell Phone Repair Business
Final Thoughts
It is estimated that in 2023, the electronics repair industry will be worth $76.8 billion and will have a growth rate of 7.3%. This blog post will give you the methods used to start a business and to have a successful one.
The Good Thing About the Electronics Repair Business
If you are looking for a way to justify an electronics repair business in 2023, you are in luck because the world needs your help. Just look at the statistics:

an average person throws away about four pounds of electronics over a year

53 million tonnes of e-waste are produced globally each year

Only 15-20% is recycled


Repairing old electronics is one way to help the environment by reducing the amount of electronic waste. Many people also like the idea of repairing their own electronics because it's cheaper than buying new ones. At the same time, people are buying more gadgets, which means more devices are being brought into people's homes. The result? An increase in demand for repair services. This trend is also supported by many governments: as of 2021, the European Parliament voted to support consumers' "Right to Repair" as well as 27 US states had active "Right to repair" bills.

In 2023, professional repairing of appliances and devices will be a lucrative business as the demand for service is expected to be constantly increasing.
Making Money from Cell Phone Repairs
If you are considering which electronics to specialize in, personal mobile devices might be an attractive option. Sales of smartphones have tripled since 2011 and it's anticipated that by 2025, an estimated 87% of mobile users in the US will own a smartphone.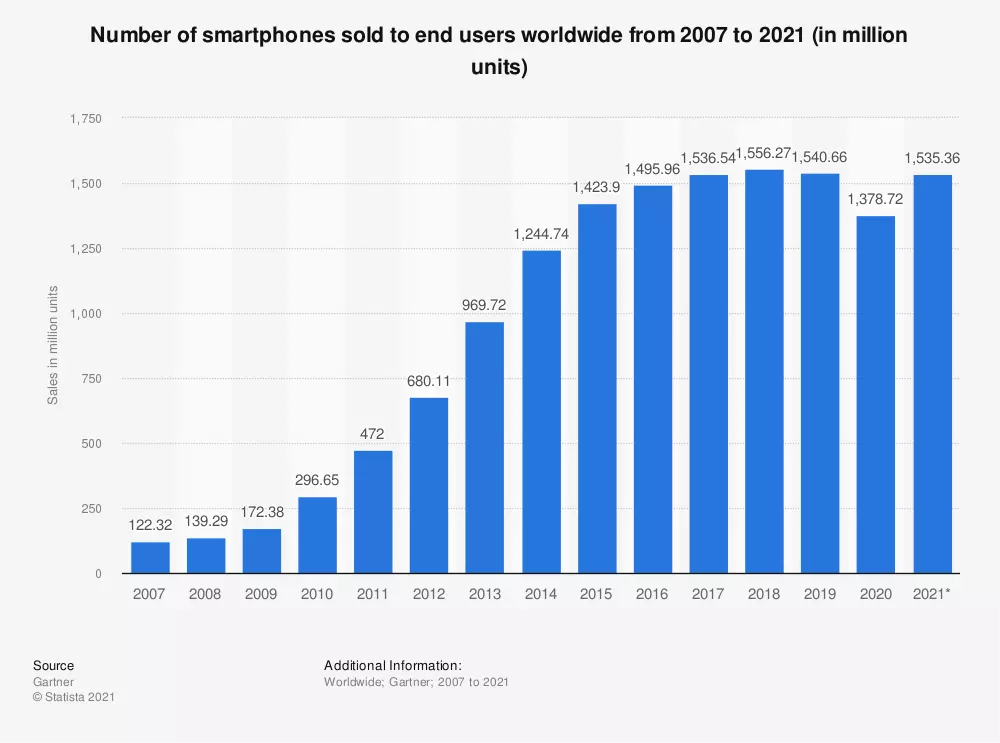 What does this mean for the future of cell phone repair? If you're looking for a business idea, you'll want to take a look at the increasing demand for smartphone repair. We're more reliant on our phones than ever and more and more of us are experiencing broken screens and other issues that require us to get our phones repaired. A new generation of tech-savvy consumers who are addicted to their phones and don't know how to fix them is more than enough reason to start a cell phone repair business.
Choosing the Right Business Model
One of the tough decisions for anyone looking to open a repair business is which business model to pursue. Many factors are involved in this decision, including where you wish to work, the amount of time you have to devote to the company, and how you hope to grow the business.

You can get started by finding a location that has the potential to become a repair center. It should be a brick-and-mortar location, not a pop-up. The tools, supplies, and equipment needed to open this kind of business are available on eBay and Amazon. Repair shops should also have a lab onsite or nearby that can receive broken phones. This business model is more expensive initially, since it requires a physical location, but can be beneficial because it offers a high level of expertise to customers. It also offers the benefit of being able to sell pre-approved items that are not sold in stores. Another option is to open an online store. This business model reduces overhead costs by only requiring a small investment in website design services, knowing how to use the web, and finding a web host company.
Whatever you choose, you'll need a flexible phone repair shop software solution to effectively manage your work orders and both in-store and online sales.
Want to start your repair business the right way? Automate routine tasks from day one!
Sign up to use all features of Orderry free for 7 days
The Pitfalls of Starting a Cell Phone Repair Business
While there are a lot of benefits that come with owning a smartphone repair shop, there are a few pitfalls that should be considered before going into this line of work. Many people often think that owning a phone repair business is as simple as opening the door and waiting for customers to come in. They believe that all there is to do is to buy the necessary tools and supplies and the customers will show up. However, if you do not know much about cell phone repair and how to properly purchase and keep track of your tools and supplies, you may find yourself in a position where you are unable to sustain your business. Other downsides include:
It requires a lot of experience to know how to fix a phone, even technicians who work in a store may not be able to fix certain devices.

Finding a reliable supplier of parts and plastics is essential, as phones are constantly updated.

It can be very hard to find investment capital for this type of business.

A phone repair business is not as profitable as other businesses such as a restaurant or retail store.

The customer may not always be satisfied with the work you provide.

Leaving the business might be difficult as it can't be quickly sold.

If you're going to become your own boss, the risks involved should be a top priority for you to think about. Although the amount of time, money, and effort that goes into starting a cell phone repair business is significant, for many people, it's worth it.
Final Thoughts
As you see, starting an electronics repair business in 2023 is a smart idea. If you know how to fix issues with phones, tablets, computers, and gaming systems, you can earn money by doing something that you love as well as helping our planet reduce the amount of e-waste. There's a ton of demand for people to fix their broken phone screens and other issues and you can make a tidy profit. Before starting, you should identify the current phone repair companies in your area and decide what type of service you'll offer before opening your doors for business. But don't forget to consider the problems that may arise and the ways to eliminate risks.
comments powered by

Disqus