Marketing For Service Business: The Dos and Don'ts
Ideas for marketing a business and things to avoid if you operate a local repair shop or a small service company.
Table of Contents
Small Local Business Marketing Best Practices
What to Avoid When Marketing a Local Business
Final Thoughts

Whereas brand or product marketing is straightforward (think: advertisements), marketing a local services business can feel like throwing yourself at a wall. When you market a corporation, you use the company's name and logo; when you market a product, you show the product and its advantages. With a local service business, you're marketing a specific place and that place's benefits. For example, when promoting a tire shop, you're talking about the location and the value — whether that value is in the specialization, in the community, in the qualified staff, or the wide range of assortment.
Most of the time, the best marketing strategy for a small service business is to be genuine. However, if your company is truly struggling to get new clients, here are some dos and don'ts you should follow.
Small Local Business Marketing Best Practices
Every company is different, so different service marketing strategies will work better for some than others. Below are a few local marketing tips to keep in mind for small businesses.
The First Rule of Marketing for Services Companies: Build a Strong Online Presence
When people are looking for your services, they will search the Internet. When your website has lots of good information, they will find you. Your website should be easy for everyone to read, regardless of background. Surround your site with images of your work, employees, and company, showcase your products and services, communicate with prospects, and conveniently accept payments. It's also essential to ensure it's optimized for search engines, which can help you rank higher for your desired keywords. You can also integrate your site or inventory management system into eCommerce platforms and sell spare parts or accessories online.
You can promote your business on social media if you need more time to prepare for a full-fledged website. The first is choosing the best social media platform that suits your company. Instagram may be more appropriate for reaching potential customers if it's a personal venture or has a small staff. On the other hand, if you are a small business with a team, Facebook is probably the best place to start. Whatever you choose, your social media posts should be unique.
When you get noticed by your prospects online, be ready to process new requests effectively. E.g., in Orderry, you automatically get all leads from different sources to your customer base to process them immediately.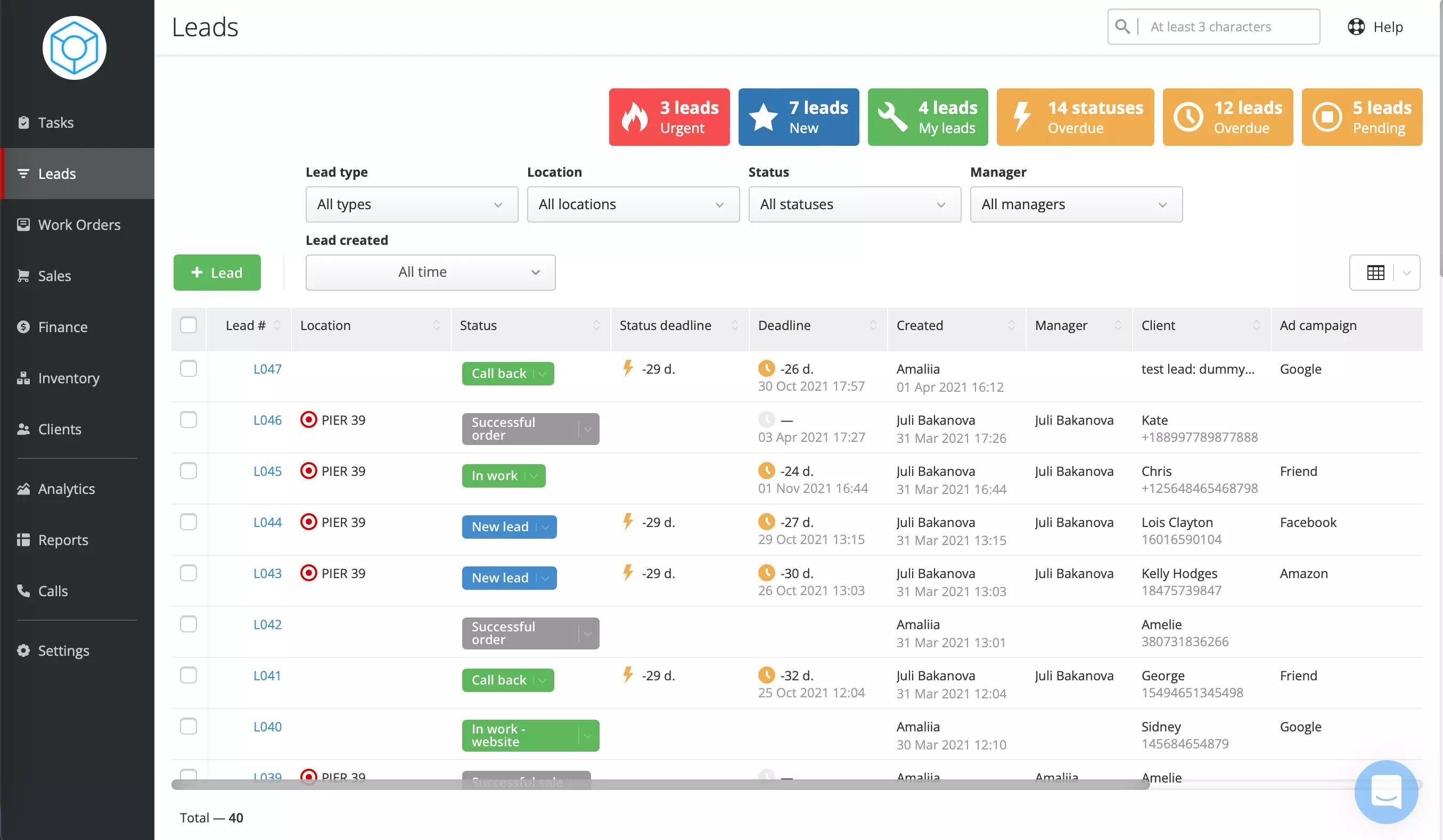 Screenshot of the Leads tab in Orderry

Promote Your Business Locally: Become a Community Partner
Word of mouth is one powerful form of services marketing. As an owner, you must be present and actively involved in the community where your business operates. Get your foot in the door by joining groups and organizations that share your values and beliefs. Fasten your seatbelt, and don't be surprised if you get a call or email from an organization you did not know existed. And don't forget about getting listed in community directories.
Source of Small Business Promotional Ideas: Learn About Your Competition
Check out your local business listings to discover how many service-based companies are near you. That's right, it's a lot! You'll want to pick a name that's an industry standard. You'll also want to pick a price point. For instance, if you charge your services above average, make your marketing materials reflect that, and vice versa.
You've put in the research, now it's time to put it to good use. Take the time to analyze what your competitors are doing with digital marketing, pricing, and advertising. Studying your competition will teach you what works and what doesn't in your industry. It will also allow you to do more of what is working and lessen the time spent on what does not work for your service-based business.
Focus on Repeat Business: Your Clients Are Your Best Advocates
Small businesses are always looking for ways to improve their service marketing efforts. Sometimes, the best thing to do is to reach out to old clients. They love what they've purchased previously and know the quality of service, but also they are familiar with how you do business.
Reaching past clients can be as simple as a phone call or as complicated as a dinner. Discuss the issues they had with your company and find some resolution. If you can resolve any issues, you'll be on their good side, and they'll be more likely to return to you for future business. If you can't, try to offer them a discount or free maintenance visit for your mistake. And don't be shy to ask for customer reviews.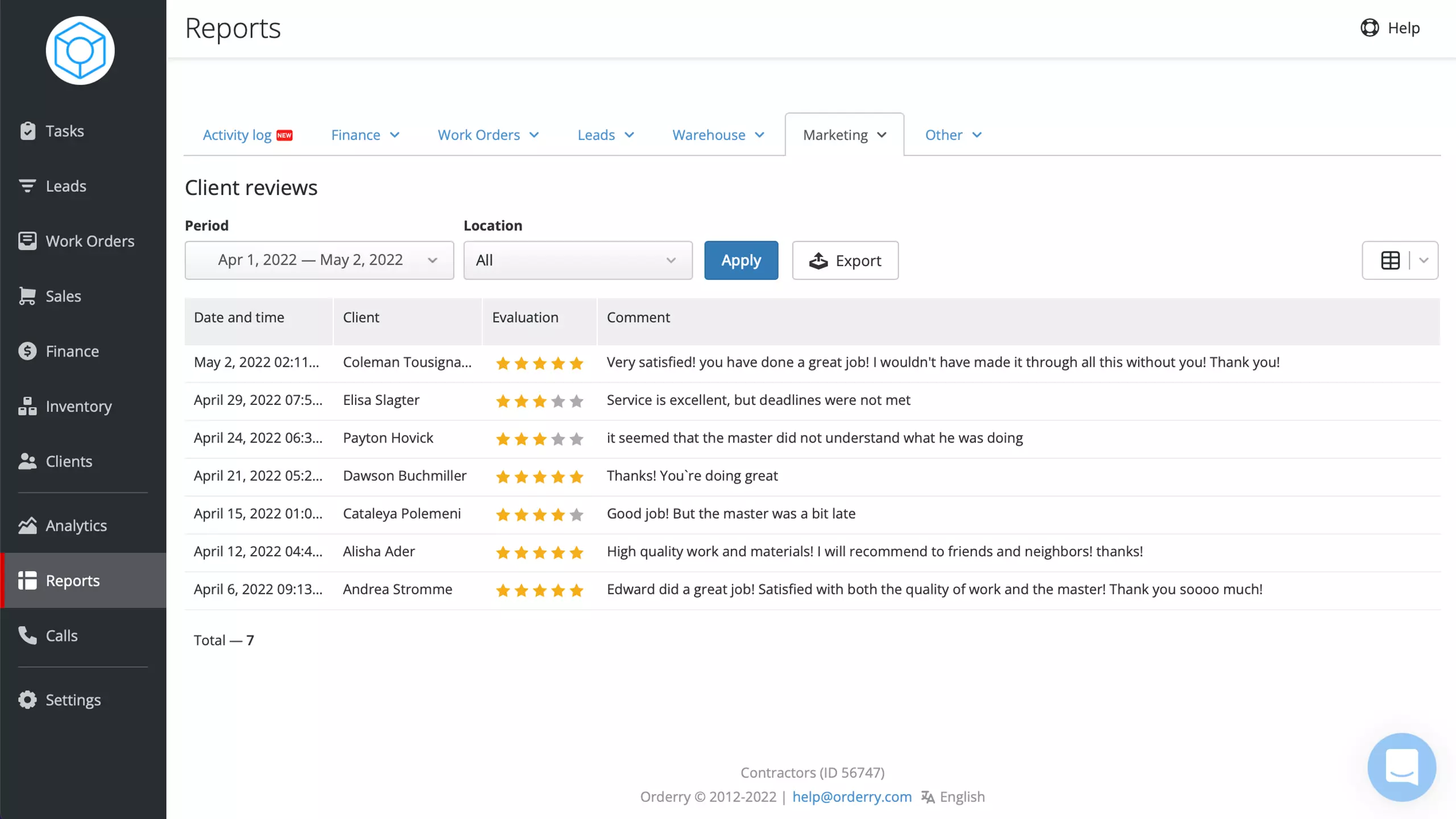 Collecting customer reviews in Orderry
What to Avoid When Marketing a Local Business
The first "Don't" in our list is based on the main principle of modern marketing — people buy from people. So, don't allow your marketing campaign to come across as one-sided with no "personal touch." What people want to see are not your ads but you, the business owner. They want to engage with you online, or if they are meeting you for the first time, they want to get to know you. This way, you are the one advertising your business, not the business advertising itself. Be your brand ambassador and regularly communicate with your target audience.
Don't Spend More Than You Can Afford on Advertising Your Business
You want to stay strong trying to get your business going, so you must be thoughtful about your spending. Advertising is a significant expense, but nowadays, it's something you have to do just to stay afloat. There are many types of ads that you can use, but most of them have a cost associated with them. Regardless, this is something that you have to consider when promoting your existing or newly started business.
Locals and their immediate communities can be excellent sources of traffic and prospective clients, and they will most likely stay in the area if they find out about your business. Keep your advertising local and inexpensive, and you'll be able to make a profit and stay in business for a long time.



Don't Blindly Follow Advertise Techniques of Larger Companies
Service business marketing on a local level is relatively different than in big national companies. A core part of the marketing strategy in most industries is to get the broadest reach possible. This might be accomplished by spending time and money on TV commercials, PPC, or radio ads. It's important to understand that what might be effective nationally is not guaranteed to produce results in a local target market. Online ads, for instance, are often not cost-effective for a small business, and services like Yelp and Google Local can be challenging to rank highly on.
However, in service industries, the strategy is different. And here, we are coming to the following rule — don't market to everyone. It's typically wiser to focus marketing activities on specific people and customize your strategy to appeal to them.
Don't Overlook an Affiliate Program
A common mistake small businesses make is thinking that affiliate programs are reasonable for "big players" only. Although these programs can be costly for small business owners, they are worth the investment as it is an excellent way to get more attention and traffic.
Such programs work pretty simply: anyone can sign up to be an affiliate and be given a link to post on their website, blog, or social media account. When someone clicks on the link, they will be taken to your site to book an appointment or purchase. If they buy, the affiliate is rewarded with a commission on their sale.



Final Thoughts
For small service companies, good marketing is essential to stay competitive. One way to be more visible is to create a website or a social media profile where you list your services, prices, and give reviews from past customers. Another proven method for marketing a small business locally is to get active in your community's life and network to find partners. You can also study your existing clientele or sneak peek at some ideas in your competitors' promotion activities. But always remember that some things don't work locally or may cost you more than you can afford.
comments powered by

Disqus