How To Start a Mechanic Shop: Do you have what it takes?
What to know about owning a business in auto repair and how to open your business today.
Table of Contents
Basic Requirements for Starting a Mechanic Shop
Steps to Opening a Mechanic Shop
Concerns About Starting an Auto Repair Business
Practical Strategies to Promote a Mechanic Shop
Final Thoughts
Basic Requirements for Starting a Mechanic Shop
If you're dreaming of running your own business in car repair, there are a number of things you'll need to consider and prepare for.
Experience
There are many moving parts in starting a car business, but one requirement is essential for your shop to stand independently. That requirement is experience. If you haven't worked in a repair garage for at least 5 years, the chances of successfully running one are dramatically reduced.
Certain types of experience are crucial when opening a mechanic's shop. One type is being experienced with the repair and tune of different makes of cars and providing services such as oil changes, replacing air filters and belts, cooling pipes, and brakes. The second type of experience is for fixing beyond routine services such as charging air conditioning, replacing sections of engines and fuel injection, gearboxes, and crankshafts. Still, the third one is dealing with modern devices and understanding what role a cloud-based auto repair management system can and must play in this business setting.
Financing Your Mechanic Business
There are some options you can use to finance your automotive repair shop. One of these is a mechanic's line of credit with a bank which is a good option for entrepreneurs because the rates are typically very competitive. The downside to getting a business loan is that you must put down some personal assets as collateral.
Another option that can sometimes be more favorable is to partner with other mechanics to start an independent car repair shop. This is often the best idea for younger mechanics who still have student loans or other debts because it can be possible for partners to split up the costs and responsibilities of the business. This also helps mechanics build their business experience and skillset.
Auto Repair Shop Licensing and Permits
Most people who want to open their auto shop need a license and permits before operating a new business. A business license is needed to operate an automobile repair shop legally, and a permit is necessary to run a business on commercial property. The required business licenses and permits will vary depending on the type of auto repair services that you plan to do in the shop and where the shop is located.
Insurance for Auto Repair Business
In most states, as a repair technician, you need Public Liability Insurance to protect against injuries or damage to a customer during a repair. The other type of injury insurance that is required is Workers' Compensation Insurance. This applies to injuries in the garage, shop, or office.
Owner's Dedication
Starting an auto repair business is a challenging task. You'll have to work hard to stay ahead of the game constantly. This requires a lot of dedication, perseverance, focus, and sacrifices to follow your dream. The only way to run a successful auto repair shop is if you, as the company owner, are accountable for your actions, ready to lead your team, and passionate about what you do.
Steps to Opening a Mechanic Shop
1. Find a Suitable Location for Your Auto Repair Shop
You'll want to search for a property with plenty of parking and determine if you need to lease or own the building. Choose a neighborhood with good traffic and abundant commercial properties, or invest in a building.
This is the most expensive part of the startup costs, so you'll want to weigh the pros and cons. Buying an old building with plenty of potential to be turned into an auto shop is possible, but you can also buy an old car garage with the same potential without the price tag of a house. You could be okay with starting small, but will you have the space if you eventually decide to expand?
2. Do a Market Analysis
Find out where the auto mechanic shops with similar specializations are located, how long they have been operating, what services they offer, and at what prices. Read reviews to see what their customers like and don't like. Before you open your shop, visit your future competitors as potential customers to evaluate the quality of their services. This will help you decide on a location and how to make your business stand out.
3. Create an Auto Repair Shop Business Plan
This will give you a realistic picture of your future operation, so do not skip this step. Make a detailed and accurate list of your services, develop a market entry strategy, predict future income and expenses (marketing, rent, equipment, staffing, etc.), define your primary revenue source, outline the prospects for development, and take into account the maximum possible risks.
4. Get Ready with the Necessary Automobile Repair Equipment
The choice of equipment depends on your shop's specialization. To begin with, you can buy or rent only the most necessary and inexpensive tools and machinery.
Auto repair shop equipment list example:
diagnostic tools

hydraulic vehicle lifts

car stands

tire and engine repair tools
5. Add Staff
You need to know how many staff members you will need and hire them as soon as possible. You may hire one experienced mechanic and a few responsible trainees willing to learn quickly. This way, you won't go broke on your payroll in the first few months.
6. Find the Best Software for Your Auto Repair Shop
All too often, independent shops feel overwhelmed with running their business. To better manage the business operations right from the start, investing in auto shop management software that will help with operations management, accounting, inventory, logistics, marketing, or any other aspect of the business is worth investing in. Look for a tool that centralizes inventories, appointment scheduling, customer relationship management, processing of mechanic shop work orders, control of finances, and business analytics.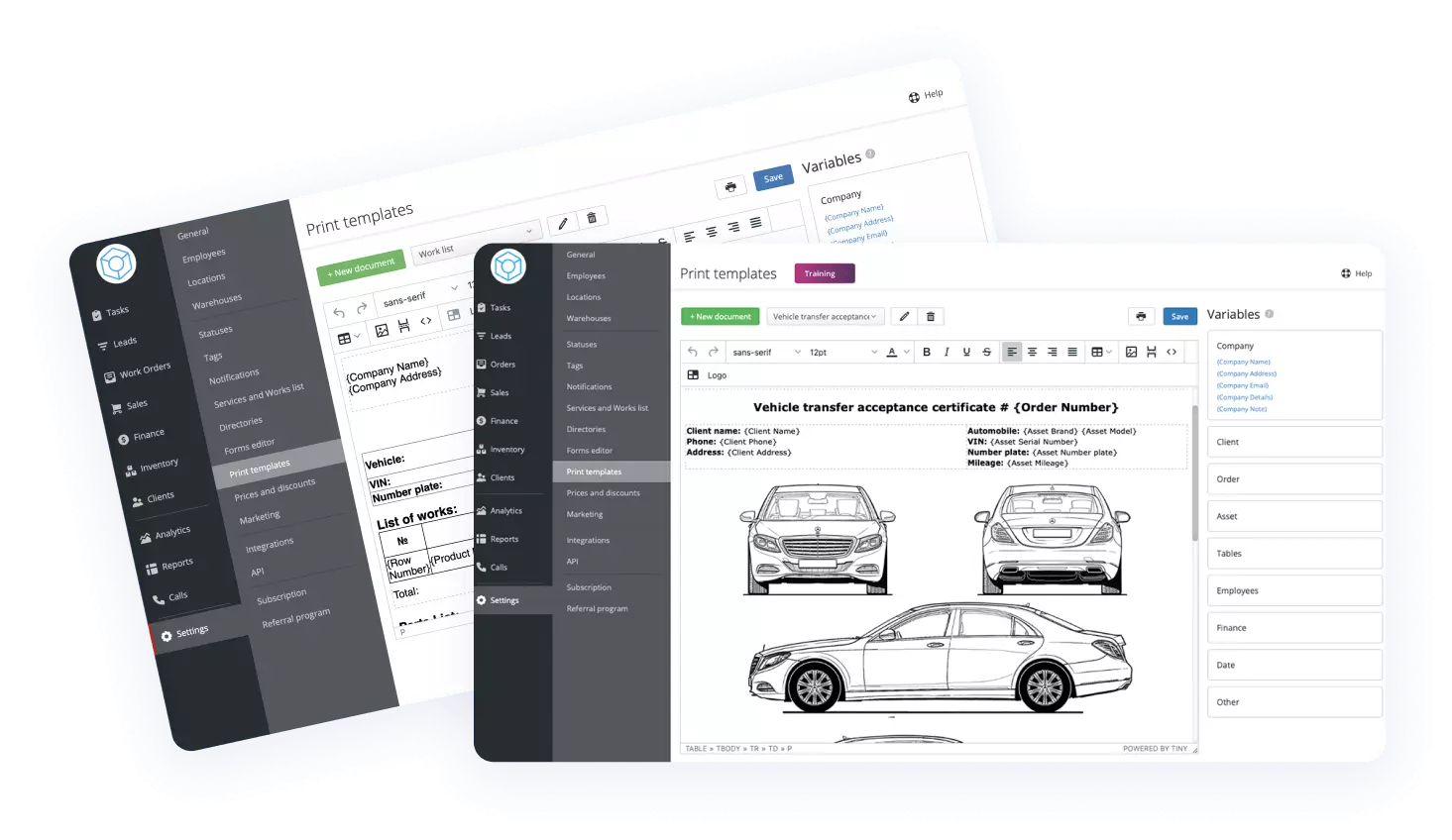 Vehicle repair forms and invoices in Orderry
Concerns About Starting an Auto Repair Business
Being a shop owner can be an exhilarating and rewarding experience. Still, you must know the ins and outs of every aspect of your new business.
Not a Quick Start
One of the most challenging aspects of starting an auto repair shop is simply getting started. It can take months before the business is even open to the public. On top of that, all sorts of zoning, safety, and other regulations must be met to be in business, which can cause even more delays.
Serious Capital to Run a Serious Business
Another concern is the cost of opening the shop. The equipment needed for this type of business is expensive, and finding the necessary space is challenging. Labor and parts prices constantly fluctuate, so mechanic shop owners need to be well-versed in the field.
You must also be aware that the costs of starting a company increase yearly. New pieces of diagnostic equipment and vehicles need to be purchased and maintained. New employees will need to be recruited and trained. Monthly expenses like fuel and supplies will need to be considered. And the list can go on.
Importance of Staying Up to Date
It is challenging to track all the innovations in the auto repair industry. There are new ways of diagnosing problems with a vehicle, repairing those problems, and using new parts. This is why finding time for constant self-education is essential to stay current with these innovations.
Practical Strategies to Promote a Mechanic Shop
Promoting your newly-started auto repair shop effectively is crucial to attracting new clients and keeping your existing ones coming back. Use these proven methods to market your business:
Create a Professional & SEO-Optimized Website
Online presence is essential in today's digital age. Your website should include information about your services, contact details, and customer testimonials. Ensure it is easy to navigate, mobile-friendly, and visible on search engine result pages. Research keywords relevant to your mechanic shop and incorporate them into your website content, meta tags, and headings. This will help your website rank higher in search engine results and drive organic traffic to your site.
Be Active on Social Media Platforms
Create business accounts on your target audience's favorite platforms and regularly post engaging content related to your services, special offers, and customer success stories. Interact with your followers by responding to comments and messages promptly.
Offer Special Promotions and Discounts
Everyone loves a good deal, and offering special promotions and discounts is a great way to attract customers to your shop. Consider offering discounted oil changes, free inspections, or loyalty programs to incentivize customers to choose your shop over competitors. Promote these offers on your website, social media, and through targeted online ads.
Build Relationships with Local Businesses
Contact nearby auto dealerships, car rental agencies, and taxi companies to establish partnerships. Offer them exclusive discounts for their customers; in return, they can refer them to your car repair shop. This will help you increase your visibility within the community.
Encourage Customer Reviews and Testimonials
Positive reviews and testimonials from satisfied customers can significantly impact your mechanic shop's reputation and attract clients. Encourage your customers to leave reviews on popular websites like Google, Yelp, and Angie's List. Display these testimonials on your website and social media platforms to showcase the quality of your services.
Final Thoughts
You must consider hundreds of details before turning your dream into an official, profitable business. You need to get yourself a garage or repair shop, pay the permit fees, meet licensing requirements, buy liability insurance, consider unexpected repair costs, decide on your target market, tools needed for the job, and so on. But don't get discouraged by this to-do list! You'll overcome any challenges on this road with self-discipline, patience, and creativity.
comments powered by

Disqus