Enhanced Employee Role Permissions and Other Improvements
In the past two weeks, Orderry has undergone several updates, presenting:
New permissions for employee roles,

which are directly linked to sales, the list of tasks and services, as well as document printing

.
Expanded duration of appointment in the "Scheduled for" field.
Enhanced image quality for products in Custom Integration with Online Stores.

Easy access to Orderry via Google sign-in

.
Take a few moments to explore the details and stay current with the changes.
Sales Visibility in Employee Role Settings
In role settings, you now have the ability to define whether an employee should have visibility across all sales or solely their own (sales they've initiated).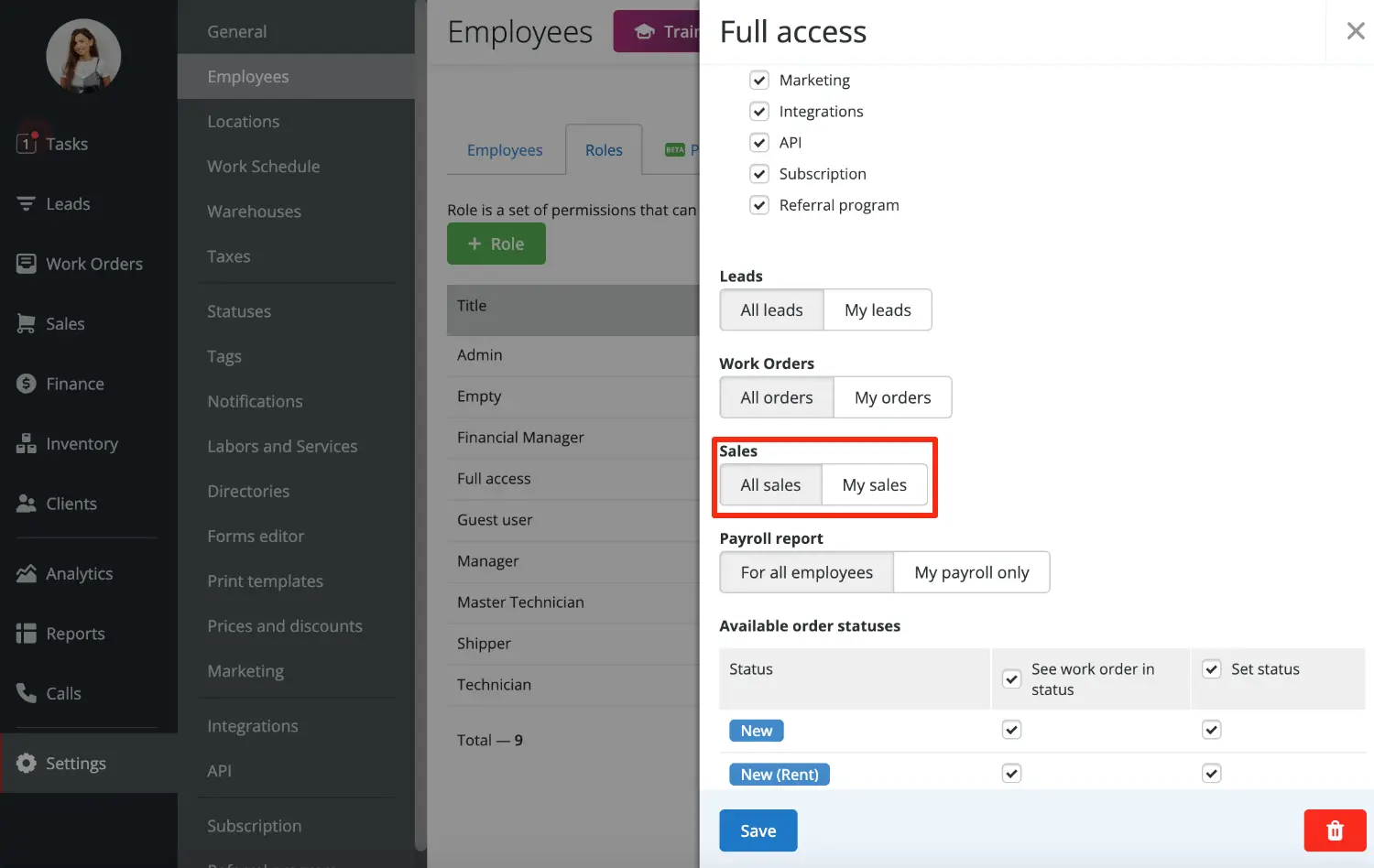 By default, the value is set to "All sales" for all roles. If you believe that an employee should only be able to view their own sales, head to their role on the "Settings > Employees > Roles" page and adjust the setting to "My sales."
Enhanced Permissions Settings for Labors and Services
Previously, employees with access to the "Settings > Labros and Services" page had the freedom to perform any action on the list of items. With our new enhanced settings, you can now specify which employees, based on their roles, can view, create, edit, and delete labors, services, and their categories within the settings.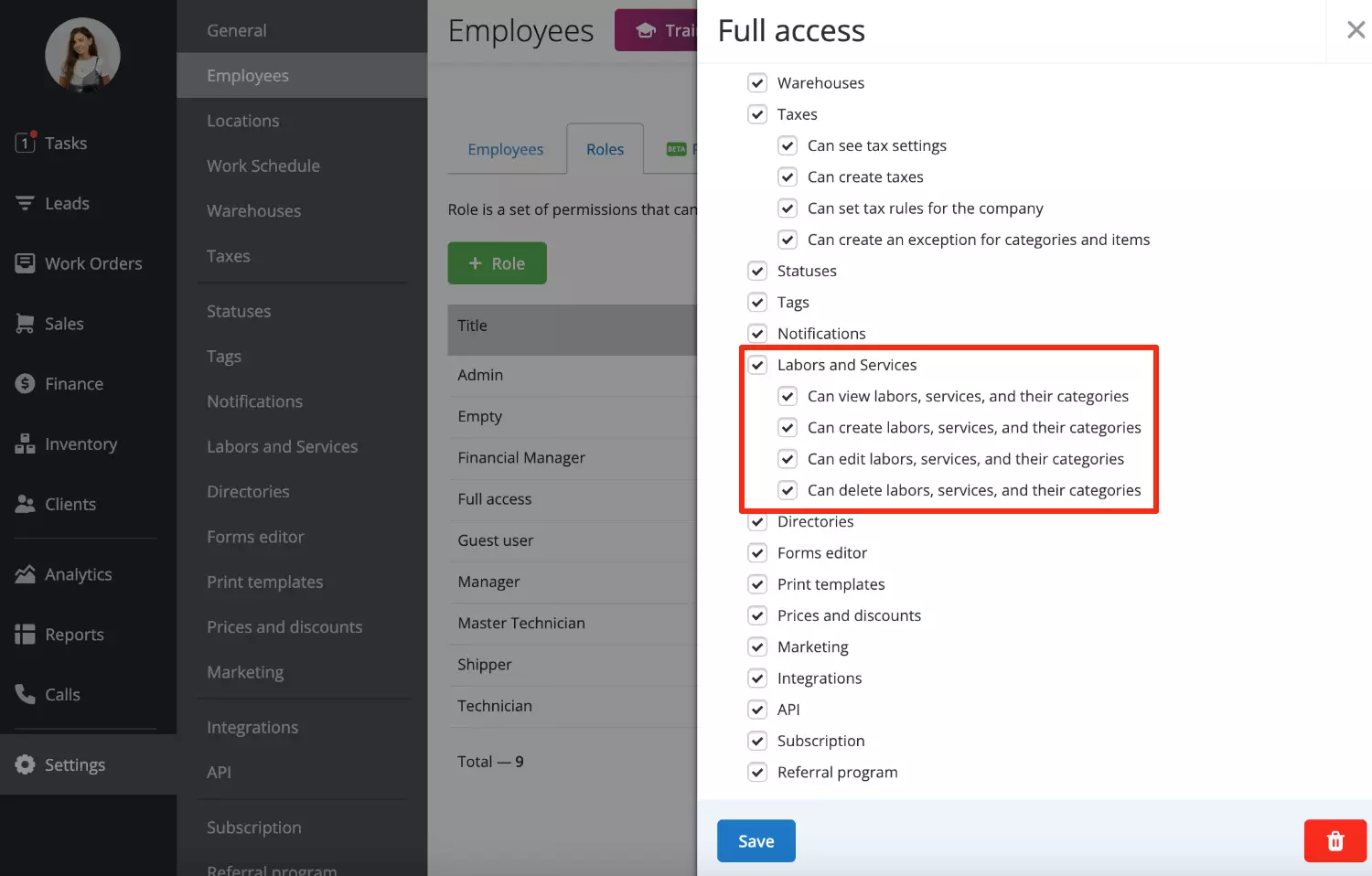 By default, employees with access to this page have all actions available. If you're in need of more tailored settings, delve into the employee roles and customize the necessary permissions for each role within the Settings section.
Printing Permissions for Work Order Documents
Another important permission empowers you with better control over employee activities and safeguards your data: the ability to print documents from a work order. Without this permission, employees won't be able to access the print documents feature while creating or editing a work order, nor will they be able to initiate bulk print actions from the work order table.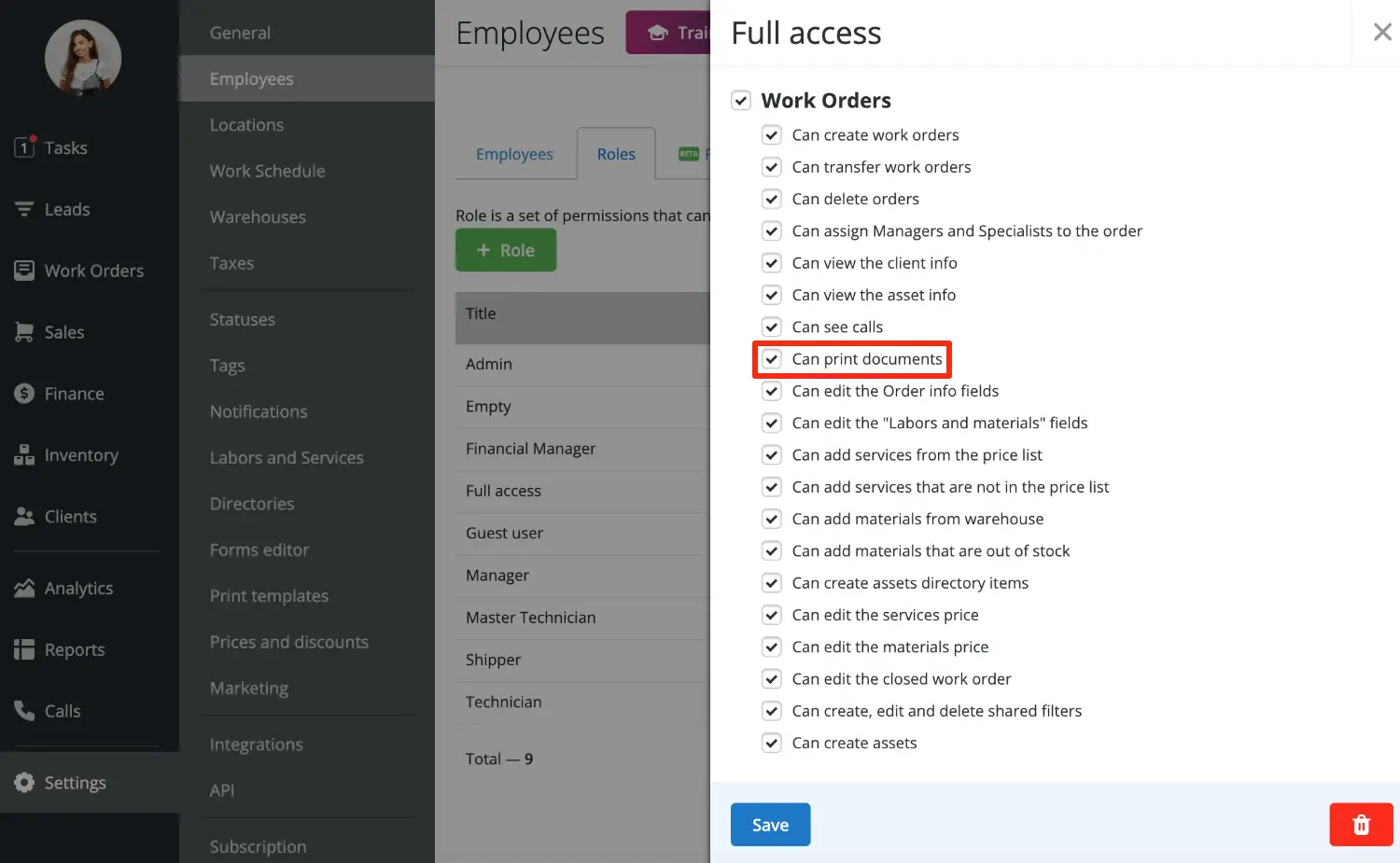 Expanded Duration of Appointments in the "Scheduled For" Field
Previously, in the "Scheduled for" field of work order, the maximum duration of an appointment was 240 hours or 10 days. Orderry is used not only by the service business but the rental companies as well. And obviously, 240 hour duration is not enough for the last ones. Therefore, we've expanded the appointment duration limit up to 9999 hours to cover the needs of all Orderry users.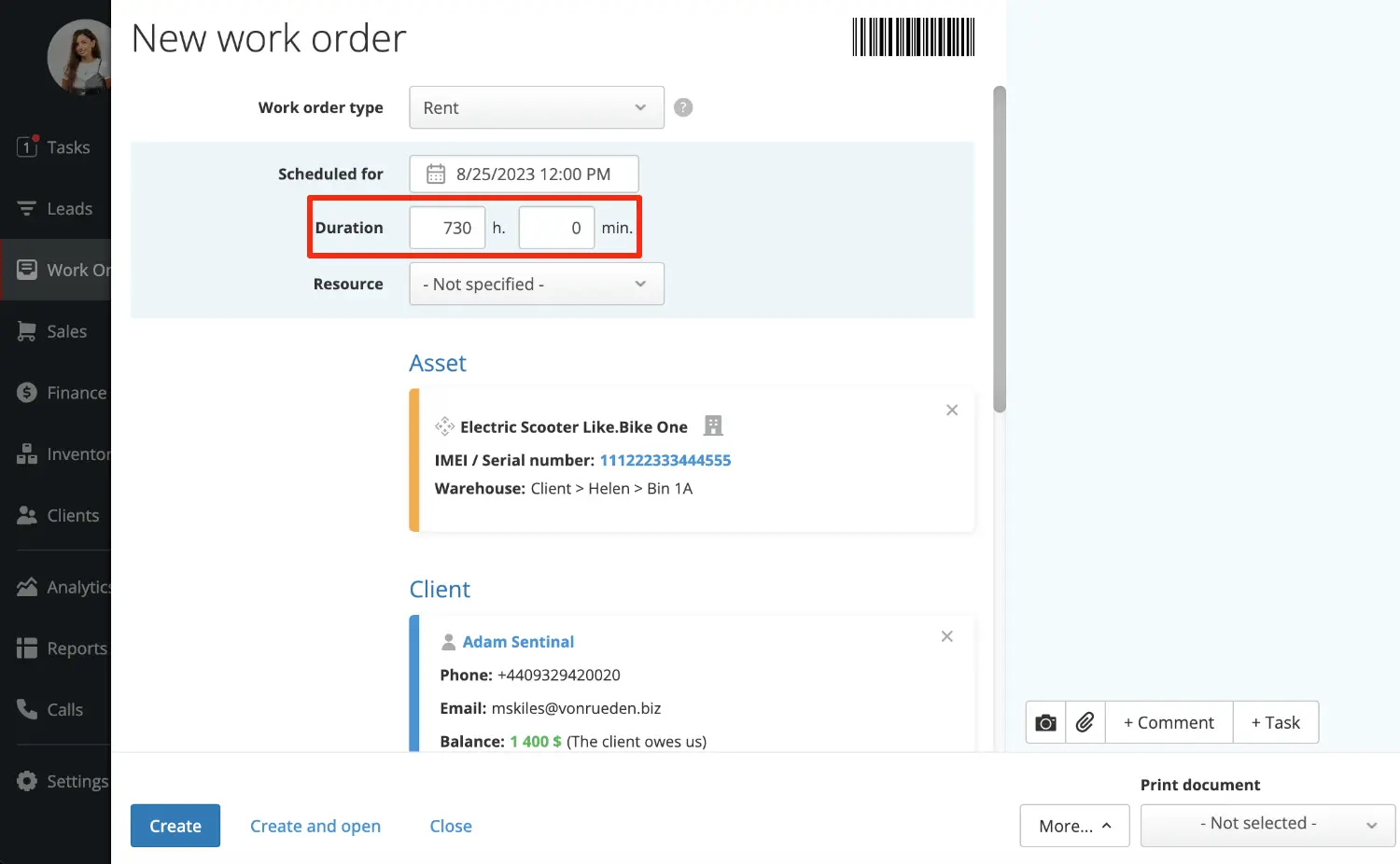 Enhanced Image Quality for Products in Custom Integration with Online Stores
For users utilizing Custom Integration with Online Stores, we've taken steps to enhance the quality of your product images. Now, these images will be automatically resized to a maximum of 2000px on the longer side, provided that the original image surpasses this size.
It's important to note that we store images with a maximum size of 500px on the longer side, and this is the size we use for integrations. If you wish to have images displayed on external platforms in the larger 2000px size, you'll need to re-upload them to Orderry with higher quality.
As a reminder, Custom Integration with Online Stores empowers you to transmit real-time product stock level data from Orderry to external e-commerce platforms.
Google Sign-In for Orderry
Now, accessing your Orderry account is more convenient and familiar than ever with Google sign-in. Just ensure that the email associated with your Google account is correctly provided in your Orderry profile, allowing you to sign into the system with just a couple of clicks. Feature is available both in the web and mobile apps.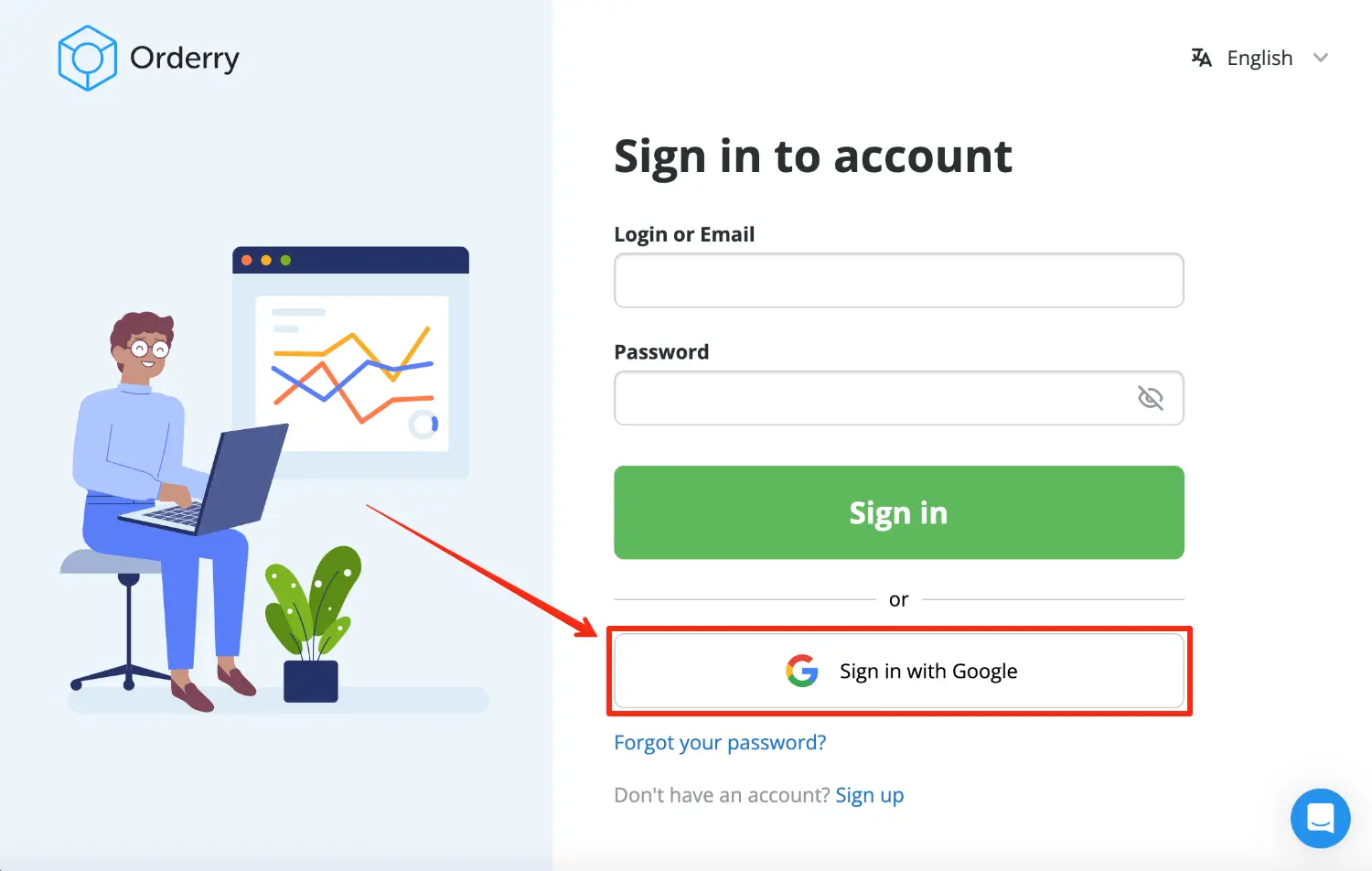 Furthermore, we've resolved a range of bugs and inconveniences within Orderry's operations.
Upcoming Plans for Orderry's Future
Now, let's peer into the horizon. With the forthcoming updates in Orderry, you can anticipate the following:
Integration with Twilio VoIP, one of the world's largest international providers of IP telephony, a technology used by thousands of companies globally. We're already connected with Twilio for SMS messaging, and soon, you'll gain the ability to log incoming, outgoing, and missed calls, as well as listen to call recordings within Orderry.
Revamped work orders. Expect a fresh design, full display of all dialogue tabs during work order creation, the ability to differentiate between the client and payer within the work order, visibility of invoices linked to the work order, the option to adjust product quantities, and even add the same product under different technicians, along with much more.
Chats. Connecting with clients will become more versatile as you'll be able to integrate Facebook Messenger and Instagram directly into Orderry for seamless chatting. Down the road, we'll be incorporating other popular messengers to the mix, and you'll also be able to initiate work orders and leads directly from these chats.
Push Notifications in the Orderry Work Orders App. Stay in the loop effortlessly. You'll receive all event notifications directly in the notification center of the mobile app without relying on SMS, email, or a Telegram bot.
Furthermore, we're diligently assembling a comprehensive overview of enhancements for the new Payroll module (beta) that have either already been rolled out or are scheduled for release in the near future. Following this, the Payroll module will step out of its beta phase.
If you have queries about this update or suggestions pertaining to the system's features, kindly share them in the comments below or reach out to the Orderry Support team.
comments powered by

Disqus