Work Order Management Best Practices
Find out how to best manage work orders in repair shops and field service companies.
Table of Contents
What are Work Orders?
How to Organize Work Orders
Work Order Reporting
Final Thoughts


A well-managed work order system can make all the difference in the success of your small service business. Discover how to use work orders to efficiently manage your jobs, predict your workload, proactively allocate resources, and keep your customers satisfied.
What are Work Orders?
A work order is a formal request for a customer to provide services. You can use various work order types—how many and with what priority depends on your services, how you do business, and the number of daily operations your employees do. Here are some examples of their grouping:
Routine and Urgent. Routine work orders are typically submitted 30-60 days in advance for repair services, energy efficiency upgrades, or service scheduling. The urgent ones are service or repair work orders that are needed immediately, typically within 24 to 48 hours' notice.
Paid and Warranty. You may use such grouping if you want to use an automatic system of payroll calculation for employees: a percentage-based reward for regular repairs, and a custom rate for warranty works.
By Devices or Locations. Use this grouping if you have one location specializing in HVAC repair and another in appliances. You can also divide jobs into "in-store" and "field" work orders if you offer both types of services.
These are just some of the ideas; as you can see, unlimited customization possibilities exist.
How to Organize Work Orders
One crucial tactic for keeping your business running smoothly is to have a reliable system for handling work orders. There are numerous ways to deal with them, it depends on the extent of the system you are trying to establish.
One way would be to have a system where workers are responsible for executing work orders independently, meaning the person bringing the work order to the business would have to know what resources are necessary for execution.
Another way would be to have a list of resources for each work order that can be executed by whichever worker or staff member is available.
Whatever way you decide to go, there are two things you should do to implement an effective system: map out your workflow and find the best work order software that suits all needs of your business.
Understanding Your Workflow
Think about the work that needs to be accomplished each day. Consider all the tasks that need to be completed, which are urgent, and which can wait a bit. Describe the flow of events for each task. Put them in a logical order of how they must be done, and write a name for each workflow stage. And voila! You can use these status names when setting up status sequences in your work order tracking system.
Cloud-Based Work Order Management
Without innovative technology, your efforts to organize effective workflows would result in potential problems like missing deadlines, incomplete work, and disappointed customers.
A work order management system is one of the best tools for your business. It not only helps you stay organized but it also empowers you to achieve more in less time. For example, when using Orderry, you'll be more efficient and productive by reducing the time it takes to find, prioritize, follow up on, and complete a work order. It also provides a way to track employee performance, leading to a more productive and efficient workforce.
Implementing such a system is affordable for small businesses as this software operates in the cloud and uses a subscription-based model, so you don't need to invest a fortune to get started. A SAAS system can allow an entire team to quickly enter, track, and update work orders. It can also ensure that all information is entered by the right person at the right time. All work orders will be displayed in a table view where you can sort them by the type of work they are, as well as by assignee, status, or urgency.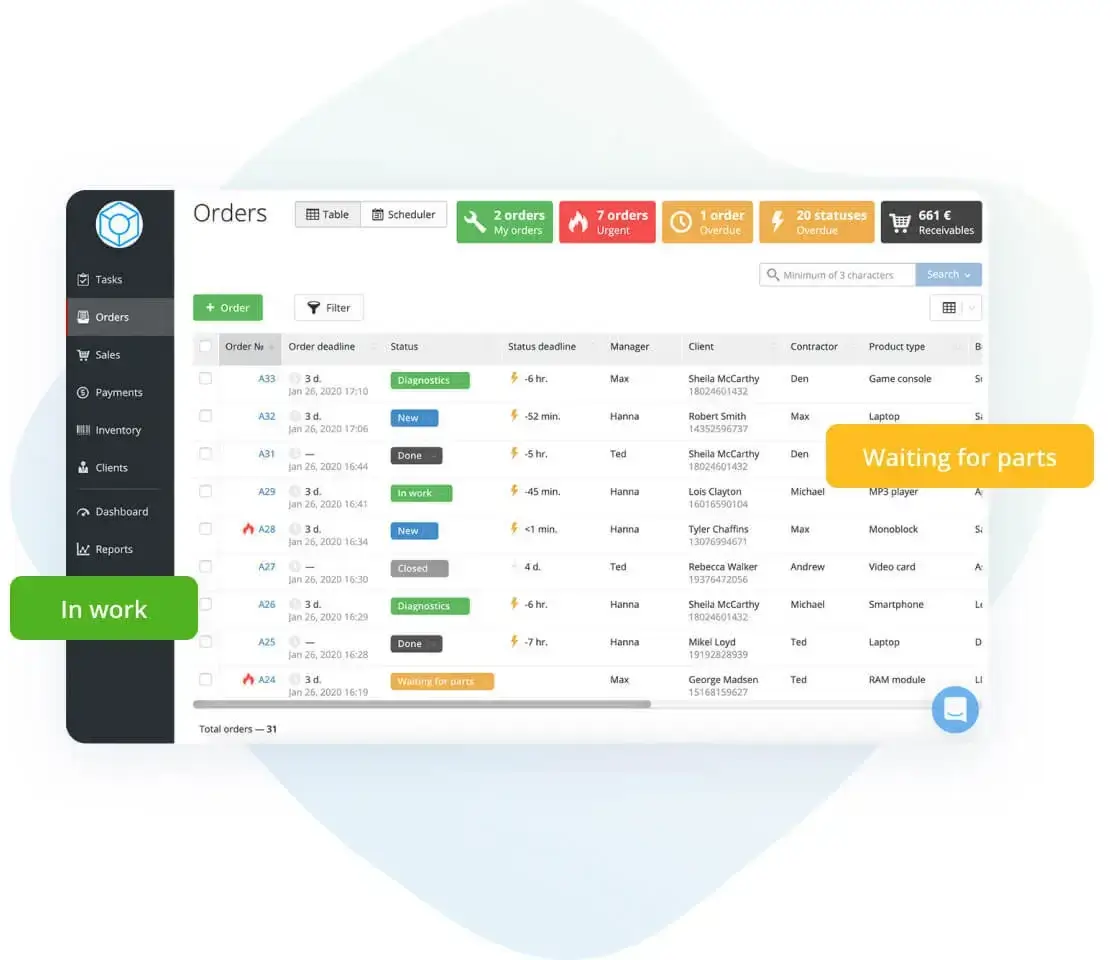 Screenshot of Work Orders in Orderry
Work Order Reporting
Keeping track of your work orders will allow you to see how many jobs you need to place each day to stay profitable, how many are on hand or due, the type of works you are receiving, and which of them get closed successfully, and much more. With work order control and deep analytics, you will get a better idea as to the amount of time it takes your team to fulfill work orders, how often they become overdue, and if you need to hire more help.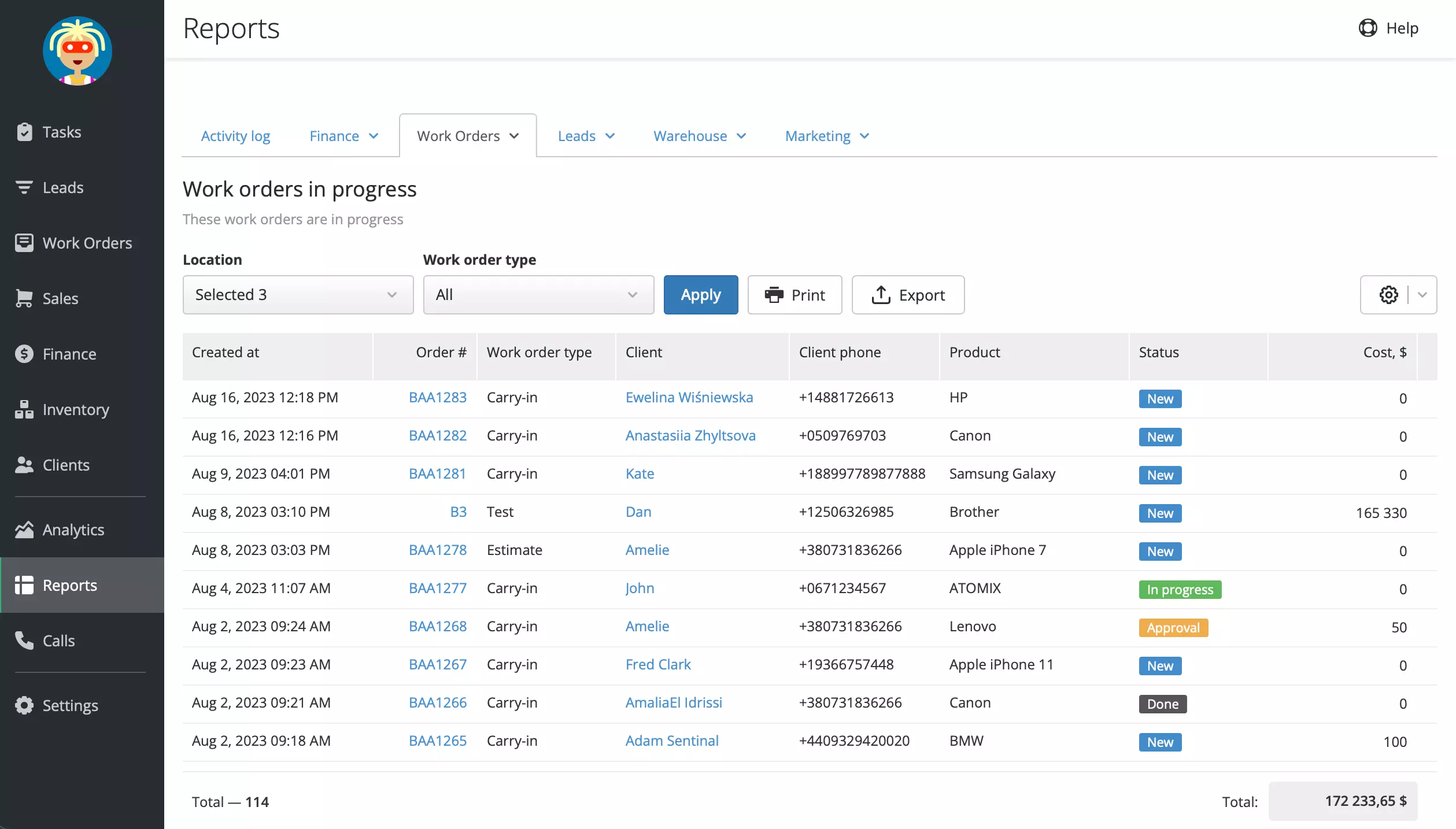 Screenshot of the Work Order Report in Orderry
Final Thoughts
Work orders are an organizational tool that can help report job status and material management and improve your company's workflow. Organizing your work orders is one of the most important things you can do as a manager to boost efficiency and productivity. There are many benefits to using work order management software; for example, you'll save time and money and be able to track and identify patterns that lead to overdue work orders or costlier repairs.
comments powered by

Disqus